A step-by-step how-to guide on setting up your LettsArt gallery so you can start buying and selling art quickly and easily.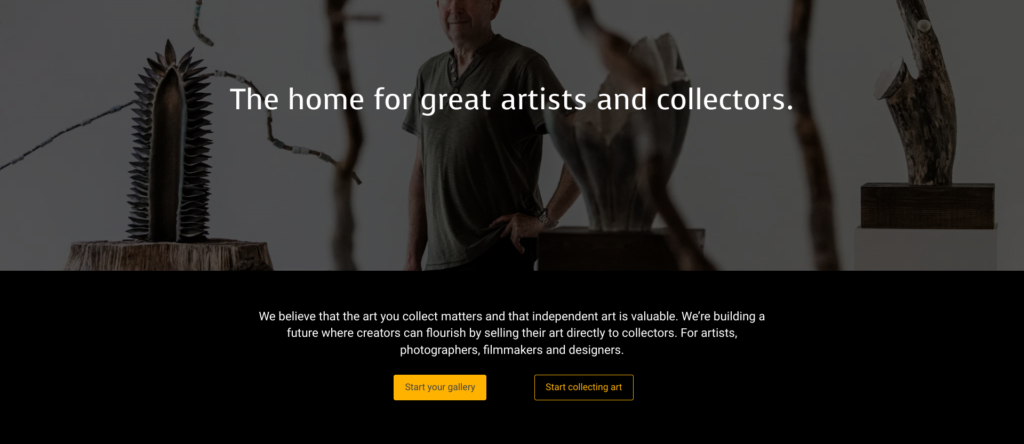 Your Profile
With LettsArt, you can create your own artistic identity through your creator profile. This allows artists to establish their positioning within the industry, prior to the collections submitted - it's all about the bigger picture. Set your creator profile up in five easy steps:
Step 1: Read the introductory guide.
Step 2: Set up your profile info and domain name.
Step 3: Set up your home page.
Step 4: Write out an engaging artist bio
Step 5: Accept the Terms and Conditions to get your gallery up and running.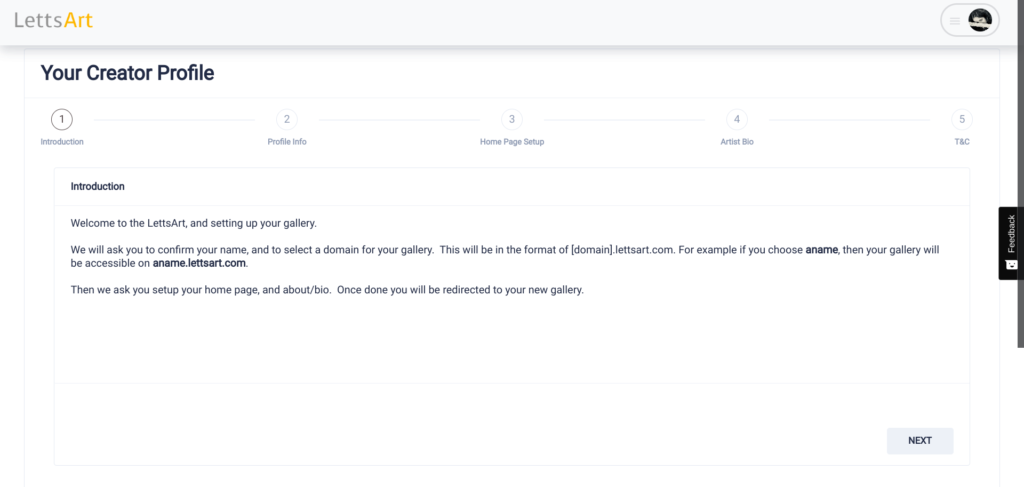 Art collections and uploading individual art works
One of the things that really makes LettsArt special is the varying platform features which allow you to structure and dynamise your gallery. Digitalised exhibitions are made available through the 'collections' feature, which allow you to group your art and develop the 'gallery' experience, digitally. Start your first collection by hitting the yellow 'my gallery' button in the sidebar after logging in. You will see a 'create new collection' tab, where you can click 'create' to get started. From here, you can name and provide a description for your collection. Upload a featured image, create, and then click 'add artwork' to upload individual pieces to your collection. These can be developed over time.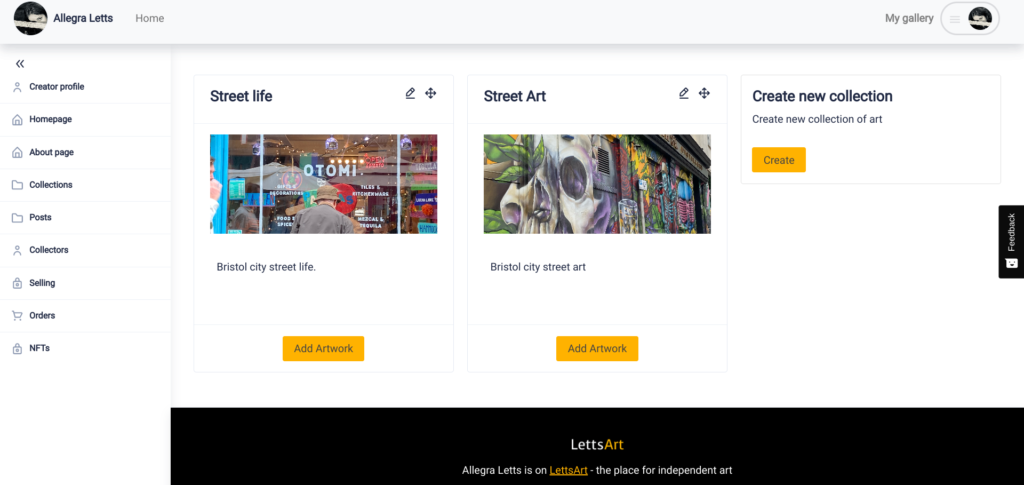 Start selling your art (setting up payments and pricing your art)
For payments, LettsArt has proudly partnered with Stripe so you can buy and sell quickly and easily, receiving money straight into your profile. Each artwork allows for individual pricing where they may vary, determined by artists, for artists. For physical art, digital art and NFT art.
Hit the 'selling' link in the sidebar to set up your stripe payments. Select your currency, and then click the yellow button to 'connect with Stripe'. Once you have linked your Stripe account with your LettsArt gallery, you can add prices to your pieces, and they will be set immediately available for sale.
Adding collectors and supporters
Collectors and supporters are another key aspect of the LettsArt gallery. With LettsArt, you can have your entire email list within your collectors profile. Again, this optimises ease for users, establishing an accessible route by which to garner support and exposure for each individual's gallery. Explore the collectors section by clicking on 'collectors' in the sidebar. Here, you can add and save collectors using their name and email, and you can also delete, block or set an opt-out option for existing collectors.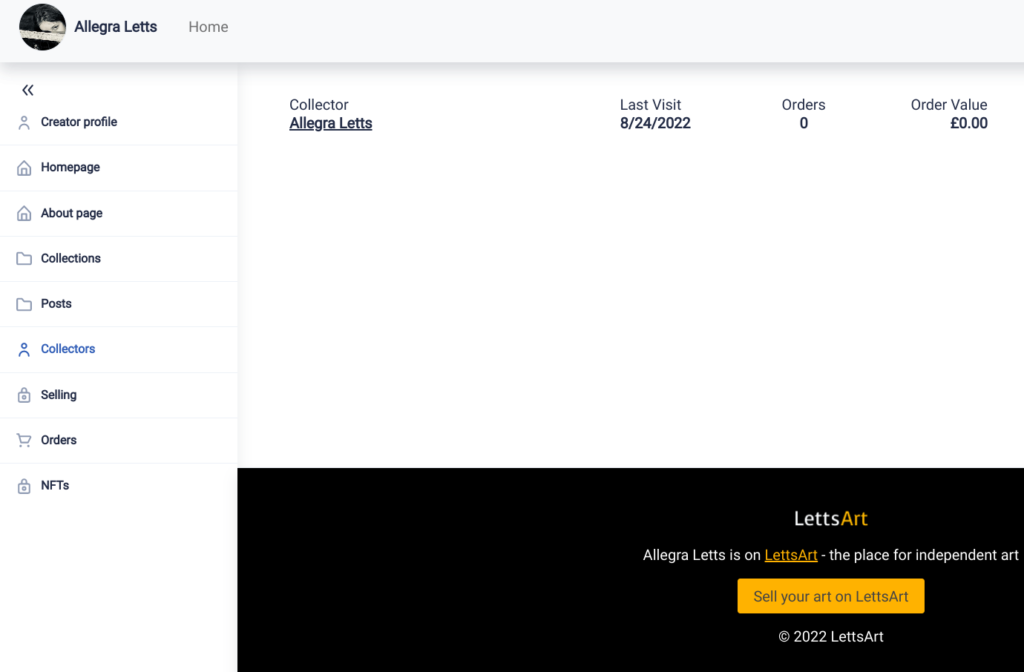 Sharing your gallery via posts and social media.
LettsArt offers an interactive, one-of-a-kind newsletter system for each of your collectors to experience by uploading new posts on your gallery, straight to their inbox and published on the Web direct to your LettsArt gallery. Finally, gallery collectors and supporters can be kept in the loop as LettsArt creators develop their portfolios. Setting up your gallery provides you with an easy, accessible link directly to your created gallery. These are tweetable and instagrammable, so get sharing across social media using your link to get the exposure your gallery needs.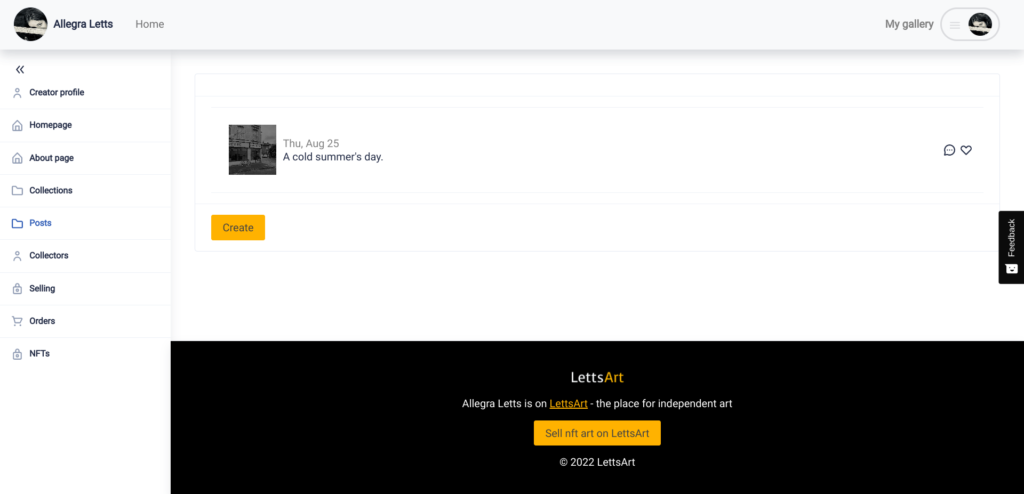 LettsArt's site is live for artists and collectors, so you can sign up to LettsArt and start building your gallery now. Creators can also keep up to date with @LettsArt on Twitter. LettsArt is a venture of the branded incubator group, LettsGroup, which is active through @LettsGroup on twitter.