Be a creator or artist that gets early access to LettsArt's limited beta. Advance applications for access now open.
The LettsArt (www.lettsart.com) limited beta goes live on 25th March 2022. Starting today creators can apply for advance access to LettsArt's innovative new artist website platform. Become the first creators to show and sell your art directly to your supporters with LettsArt's new online gallery approach. It's simple to build your own site, profile and show your work, and sell it direct to your supporters using your own url. LettsArt is the first secure, NFT enabled artist website platform. A platform dedicated to the individual artist, powerful and simple. So your energy goes to making great art, not building a website.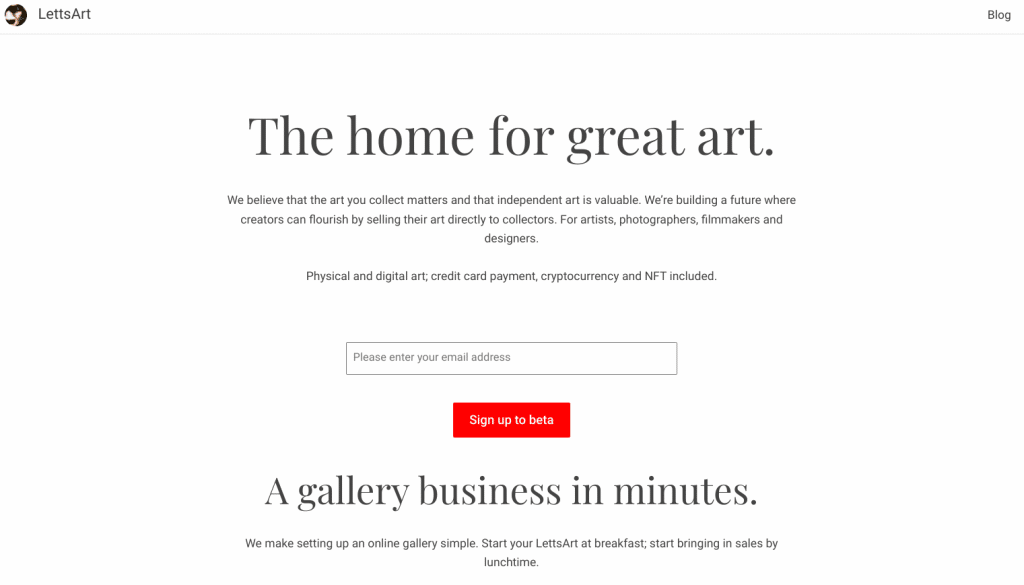 "Why shouldn't any creator be able to launch their very own White Cube gallery - online? Now they can. For artists, photographers, filmmakers and designers."

Philip Letts
LettsArt is levelling the art market by enabling any creator and artist to be able to sell their art more widely, while building their own collector list and art sales without the need for middlemen. Changing the rules of the art market for ever.
LettsArt makes it easy for creators to set up a simple, yet powerful online gallery in minutes. Available on any device and designed for both physical and digital art and NFT enabled. These artist branded galleries can open up the art market for creators and collectors alike.
When LettsArt goes live in beta on 25th March, creators will be able to register for free and start building their gallery immediately. If they want to begin selling their art directly to their supporters they can add their details to LettsArt's automatic payment system and get going. Their gallery can then accept payments from all leading bank and credit cards, from anywhere in the world. The platform includes shopping cart capability and buyer details of the collectors.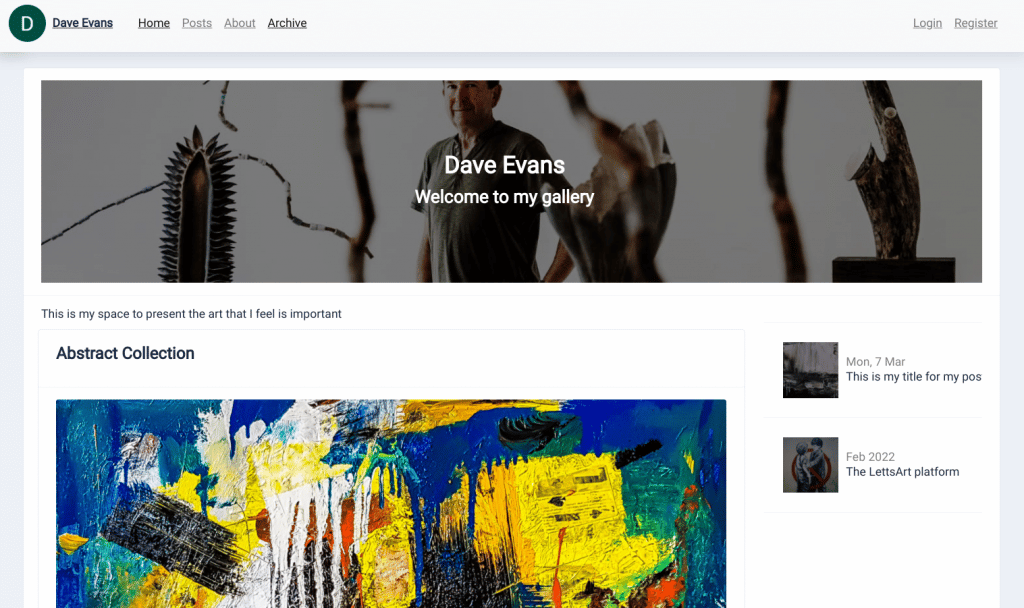 Using LettsArt creators make direct sales to their collectors. They are responsible for packing and shipping their physical art. LettsArt's system takes care of the secure delivery of digital art. All of the art is managed using LettsArt's series management approach.
LettsArt is free for creators to set up their gallery. We take a 10% commission on art sales - more cost effective than traditional galleries, auction systems and online marketplaces. Creators will be able to easily and securely mint NFT's for digital art and earn money on the resale of these NFT's using LettsArt's recurring royalty management system.
LettsArt's powerful Web 3.0 platform does not require creators or collectors to download an app - it all runs in the browser. Its innovative platform offers a gallery system, lightbox artwork display technology, the ability to display any form of art including physical art, digital art, photography, video, performance art and design. The platform also offers the ability to publish posts and updates next to art collections with a slick communication system for creators to engage with their supporters and collectors.
Collectors register at LettsArt to follow their favourite creators and get advanced notice of new art sales direct from the artists gallery, as well as updates on their work, studio life and exhibitions. Collectors can even create their own next generation 'salon gallery' at LettsArt to show their collection.
From today early bird creators can apply for the LettsArt limited release beta. Get early access at www.lettsart.com.
---
Get the latest news and updates from @LettsArt on twitter.