You've got set up on LettsArt. Your gallery is optimised, so that your art is just where you want it, you've got collections and featured art, and you're ready to have collectors and viewers journey through your own gallery space following the steps you've carefully planned out. Now in this article we will explain how to set up posts in your LettsArt blog, and how to make sure your followers and collectors receive your updates direct to their inbox.
The first step is to click the link to your LettsArt gallery. From here you can use the "add post" button on the right underneath your Gallery Header. You can also do this by going through the Dashboard button at the top right, and then navigating to the posts tab in your dashboard.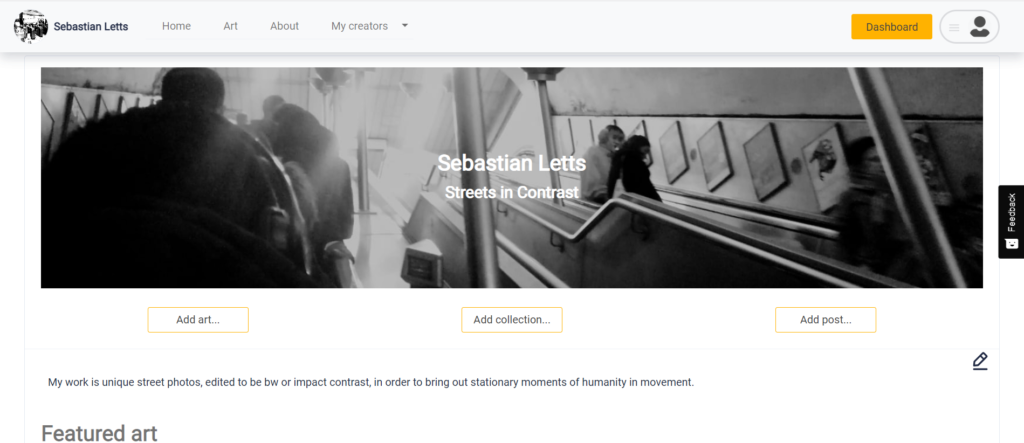 Next you will be greeted with a window where you make your post. This is where you can type up your thoughts, and post them to your gallery's visitors - directly on your gallery's homepage. Posts can be whatever you like, but some popular topics include upcoming work, discussions of artwork you have already posted onto LettsArt (with a link to that artwork), or behind the scenes chats about your works in progress.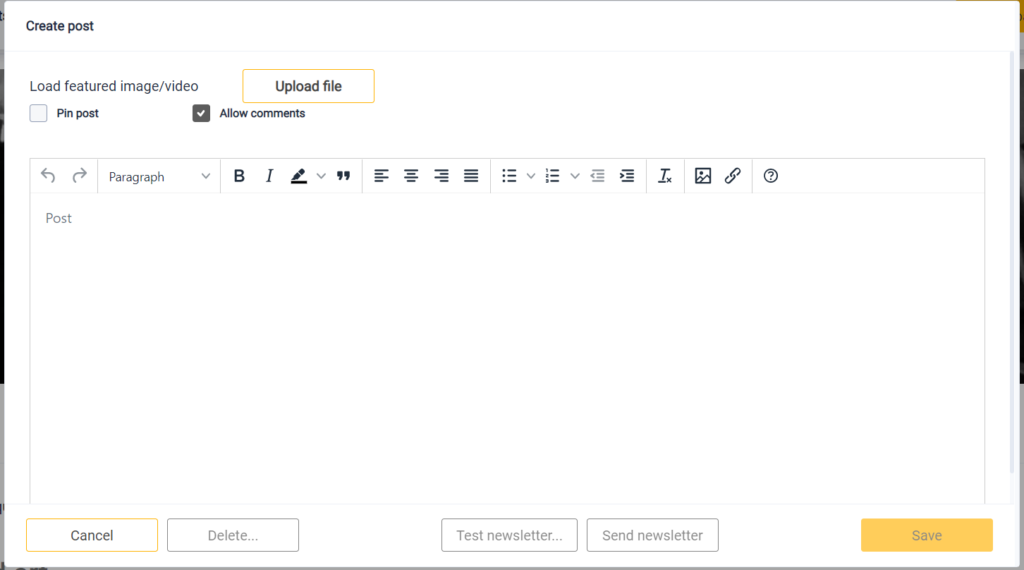 As you can see there are a few more options beyond simple words. You can add a featured image or video. These will always sit at the top of your post, and feature as a thumbnail when your posts are being displayed in your gallery or gallery's posts page.
Once you have written your post down, saving your work will add the post to your gallery immediately. Don't worry if you want to make changes or even remove the post later, this is easily done meaning you don't need to be worried about not being able to edit or delete the post after it has gone live on your gallery page.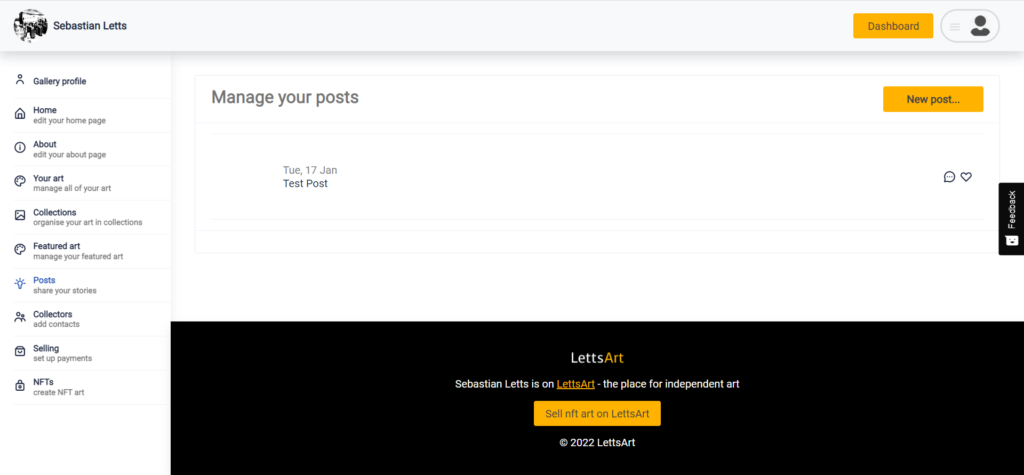 In order to access all your old posts, or add a new post, you will need to navigate to the "Posts" tab in your dashboard, which you can see in the image above. From here you can select any of the posts you have published, and edit or remove them. You can also control if comments or likes on that particular post are allowed by selecting the speech bubble or heart image to the far right of the post to enable them.
Now that you have learned to publish a post on LettsArt, you can choose to auto-publish it as an email to your list of followers and subscribers.
First navigate to the "Collectors" tab in your dashboard, which you can see is just below the "Posts" tab. See image below.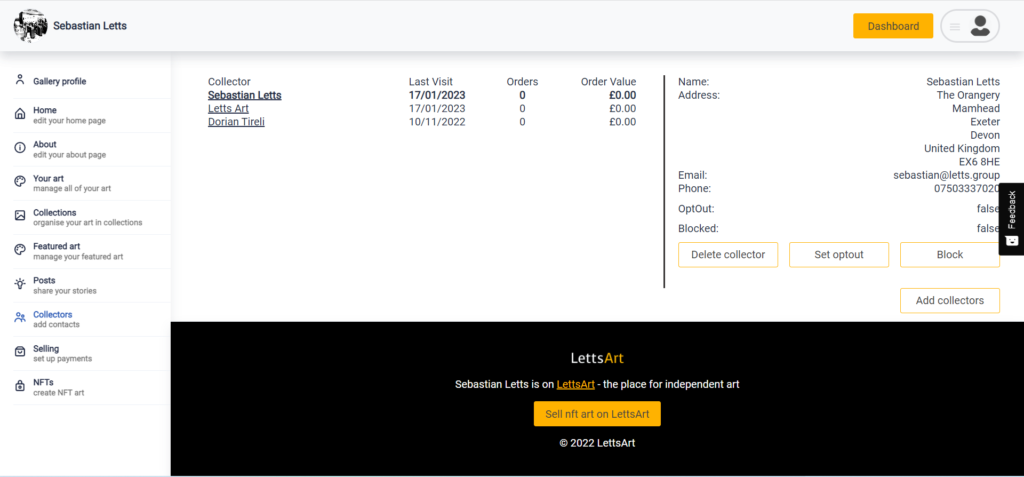 In this tab you can view all your existing collectors, who could be people you know, or people who have come across your gallery and clicked 'follow'. From here you can select the add collectors button, on the right of the screen, which will bring up the menu of options below: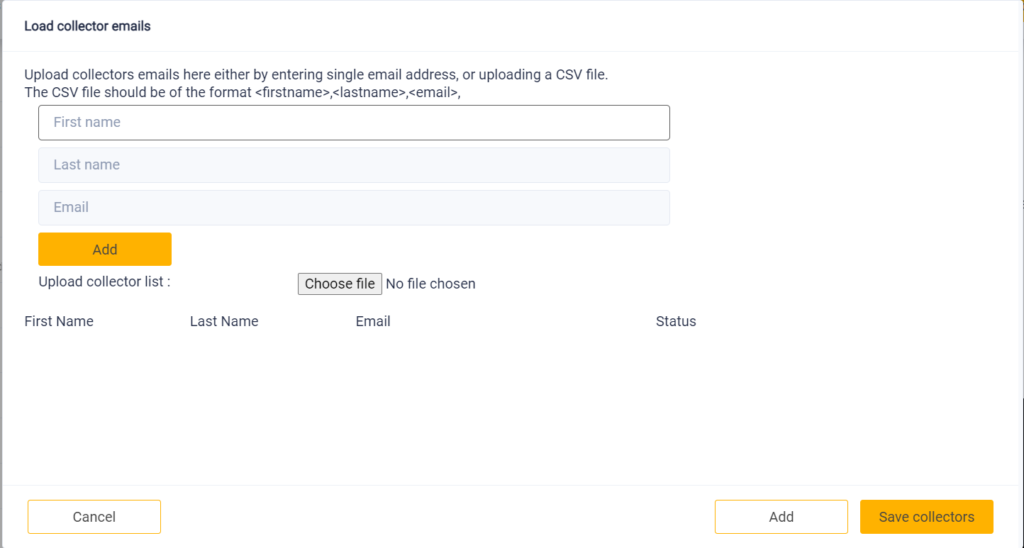 From here, add an individual collector you know would like to follow your gallery by putting in their name and emails. Additionally, if you run a mailing list or use another service that sends out bulk emails to people following your work, you can use a csv file to transfer all those addresses into your LettsArt gallery. Once you have saved those collectors they will automatically follow your gallery, and receive email updates whenever you publish a new post.
To do this though you will want to go back to the posts tab, and select your most recent post.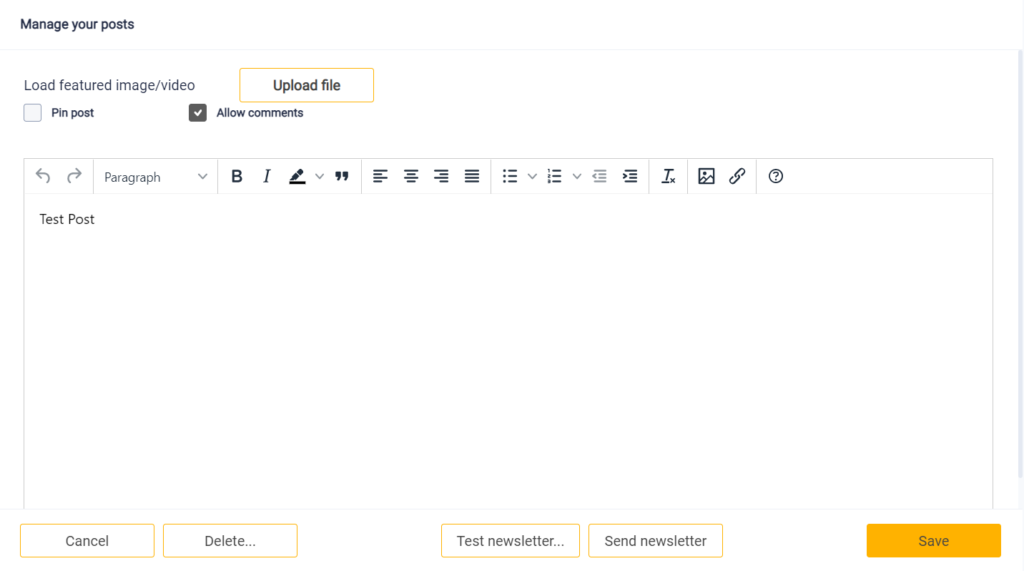 From here you can see the post you have already written, and you can select to send your post as a newsletter. To see how the auto-generated email post will look to your collectors, use the test newsletter button, where you can put in your own email, and click so a draft version is sent to you. Once you are happy with it you can click the send newsletter button, and this will send your new post to the emails of all your collectors, keeping them up to date with your latest posts or news.
If you want a particular post to be pinned to the top of your posts feed you can also select the "Pin post" checkbox which is on the top left of the post editor, just below the "Load featured image/video" title.
You are now ready to start publishing and emailing your posts. Use posts as a way to keep your collectors up to date, as well as building your gallery through communication. You can also share any of your posts on social media. We recommend publishing at least one post per month. It will keep your LettsArt gallery followers and collectors engaged.
Go to LettsArt.com, build a world beating gallery and start selling your art today. It's free to use for any creator or artist. Sign up today.